SASE
Secure Access Service Edge
With SASE, your branches have never been closer: versatility, cybersecurity and global coverage.
SASE
Are you a multinational organization with offices abroad? Companies like yours are increasingly embracing digital transformation, driven by cloud applications like SASE.
MPLS solutions are no longer in tune with companies' new needs, as they are inflexible, non-scalable and rather expensive. The global availability of cloud applications and low-cost bandwidth have changed the approach to WAN design. The pandemic has also changed the rules of the game, increasing the number of remote workers who require a high-performance virtual office.
In full compliance with local regulatory frameworks, Professional Link has implemented SASE (Secure Access Service Edge), a future proof solution that ensures optimized performance with low latency connectivity, with over 75 global points of presence (PoP) based on Cato Networks technology. With SASE, the benefits are obvious:
Basic security is included in the service, but can also be upgraded as an option.
Support for roaming users (WIN, Mac, Android, IOS)
Optimized access to cloud providers (AWS, MS, O365, Salesforce etc.)
SD-WAN Embedded Solution (Socket Required)
Significant cost reduction
Fast delivery: weeks, not months
24/24 Support: Professional Link is not only one of the top rated SASE vendors, we can also coordinate local partners for on-site support, circuit and equipment supply. SASE service is managed, not resold.
Secure Access Service Edge (SASE) architecture
Flexible: CPE installed on site or IPSEC VPN if the customer already has suitable CPE on site.
Managed/co-managed option by Professional Link, one of the leading Italian SASE security vendors
One Stop Shop: if requested, PLINK, being a SASE service provider, can procure the local Internet circuit all over the world (and provide the related delivery and installation services).
Competitive prices
Secure: NGN FW, IPS, cloud managed anti-malware services, automatic anti-malware database updates, near zero latency, no need to keep firewalls up to date with contracts
SD-WAN: Managed CPE offers full SDWAN capabilities (link aggregation, dynamic QoS, identity aware, last mile monitoring)
VPN Client: Enables mobile users to benefit from cloud services
Interconnections with native cloud providers
​We know that words are just words…until they are backed up by facts.
This is why we want our customers to experience the solution firsthand, before making any choice.
How?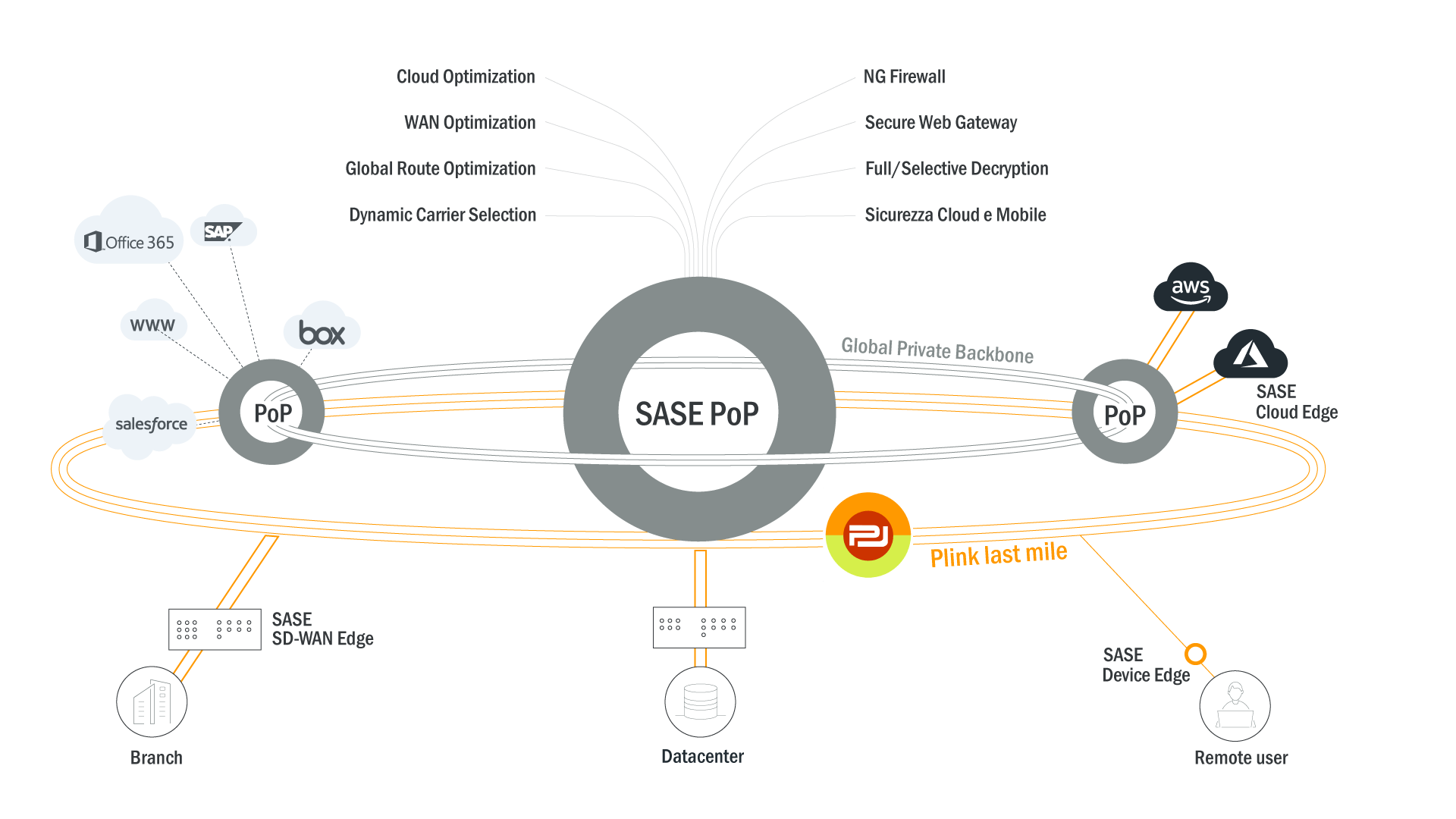 Why choose PLINK: SASE architecture benefits management
The benefits of the SASE architecture, in addition to global connectivity, reside in the data traffic access and transport service designed by Professional Link, supplied integrated with the solution.
PLINK's secure and ultra-low latency network allows data connections with real-time redundancy and complete diversity and guarantees access and transport of last-mile data traffic, i.e. from all the customer's edge points to the nearest PoP (Point of Presence).
It is easy to implement and activate SASE, it is flexible, and it can be tested for free. Are you ready to future-proof your organization? Get in touch with us here