D.O.M.U.S.: Desk Office Mobility Unified Security
A new way to design your working space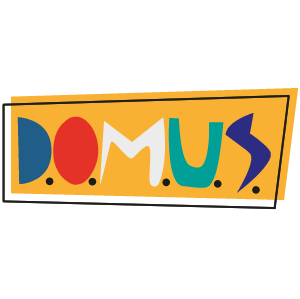 Labour market is undergoing an extraordinary transformation.
Telecommunications are only partially used, often in a ineffective way and benefits coming from modern technologies are not completely exploited.
We need a new vision, to design and develop a new concept for working places and take advantages of integration and simplicity.
Thinking to a new model to manage working spaces and places, also means to develop corporate ethical values for workers benefit, welfare and well-being, nowadays well known as key points to improve workers life, their efficiency and their productivity.
Working at home is a new reality, today.
But this requires a new organisational model and to adopt a new set of working tools. Simplicity, efficiency and management are a must today to reach innovation with new, innovative services. We need a technological partner able to provide a complete vision of the service supply chain. We need flexibility to adapt services to our own needs.
For this we made D.O.M.U.S. Desk, Office, Mobility, Unified, Security
your productivity tool to improve efficiency, able to coordinate all elements to activate an innovative, effective and functional smart working model, capable to use innovative services in a wider project of comporate wellfare to reach economical, productivity a fiscal benefits for companies and employees.
Connectivities for all smart workers
Total integration with PLINK ecosystem (voice, cloud, storage, backup & disaster recovery)
VPN support for a total integration with your company network
Customized protection & control services
Simplified web conference e unified communication services
A unique partner to manage the whole platform
Simplified management of all enabling services for smart working
Compliance with GDPR regulatory framework
Costs deductibility with FRINGE BENEFIT (1,30€/giorno)
xDSL data line up to 100/20Mbps
Static IP address
Router management and maintainance included
Free upgrade to the best available network profile
We provide the best avaliable connectivity up to 100/20Mbps, one static IP for a better management of access profiles, VPN management for a secure access to companies resources, router with management and maintainance included and constant and free upgrade of available line profiles.
D.O.M.U.S. : your office in a snapshot. Safe, simple, efficient.
VPN with company resources (on premise and on cloud)
Web meeting, integrated system for voice and video call
Centralized firewall e proxy for a secure access to the net
Monitoring and dedicated control panel for all active circuits
Dedicated control and ticketing system for fault management
D.O.M.U.S. with a click you can connect people to company infrastructure.
Thanks to integrated VPN and centralized firewall (included in the service) smart workers can gain access to their company resources  as they were at office, with no problem, in total security.
And you have a total control of the system with the monitoring platform designed for you.
LTE backup for a total redundancy
E-Fax: fax over email, so you can get your faxes at home
Integrated voice system (with number protability)
Cloud storage space (within EU area) to share documents
Integration with your company telephony system (with UCM 3CX)
With D.O.M.U.S. you can gain all advantages of PLINK ecosystem of services.
You may have a LTE router for a secure backup in case of fault on the main line, you may have your e-fax at home, you may integrate voice numbers, send and receive calls for a total working place remotization, you may use share storage spaces for a simple and quick document exchange.
And if you already have our 3CX UCM, system integration is TOTAL… and ready to use.
Total integration on PLINK network
Dedicated support at professional level
Best performances/one only partner
Activation and management service with one only direction
Planning and adaptability to have the best services to reach your real operational needs
Save costs for mobile phone (data & voice traffic and recharges)
Fiscal benefit (FRINGE BENEFIT)
Web meeting activation in 2 days from order
Router delivery in 7 days (configured and ready to use)
Circuit activation and connection to the system after 10/15 days from order
VPN, monitoring and ticketing system in 2 days after router activation
Optional services to be defined

With D.O.M.U.S. you have all you need, at home as you were at office.